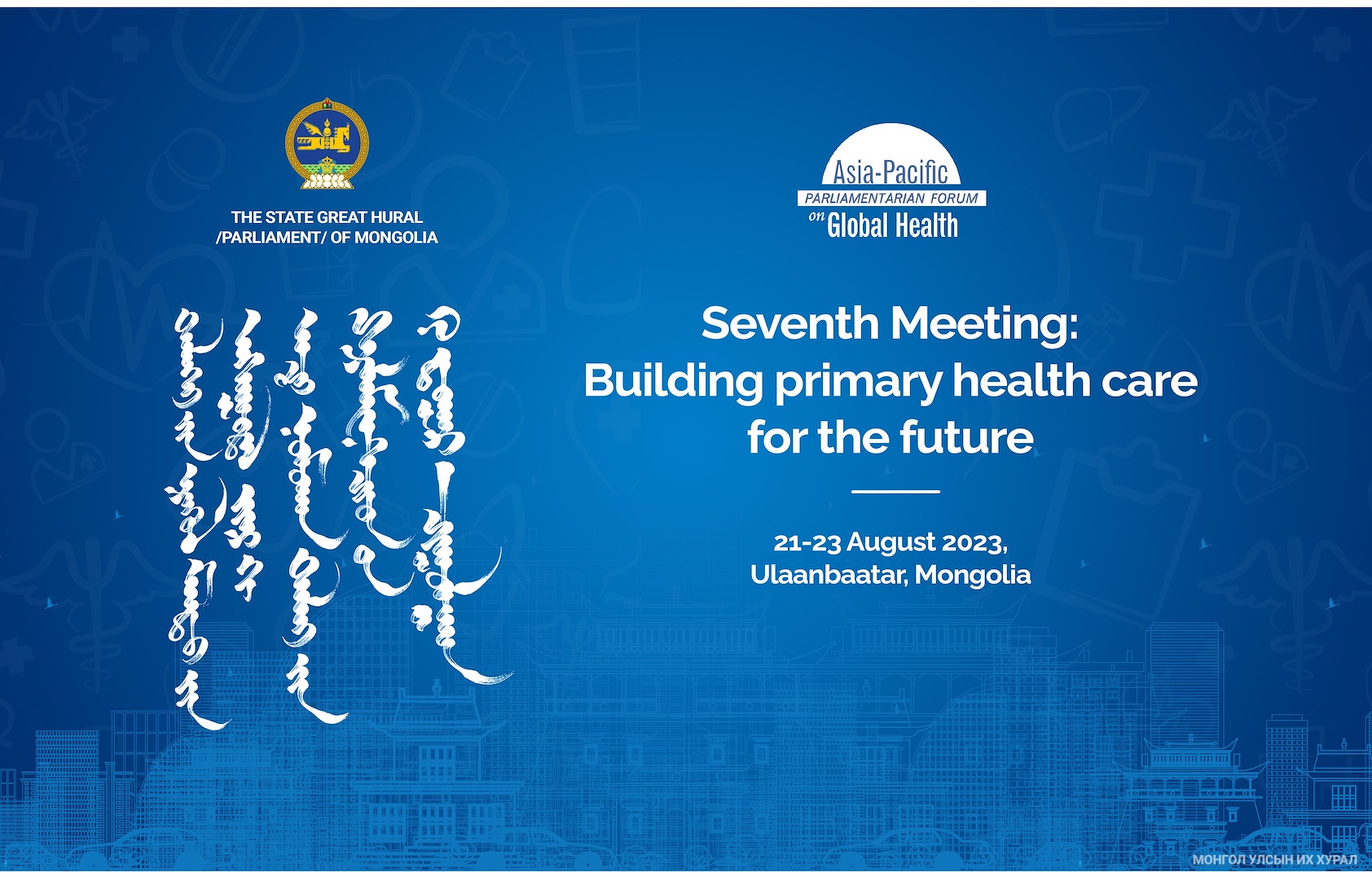 The State Great Hural (Parliament) of Mongolia, the World Health Organization, and the Ministry of Health are co-organizing the Seventh Meeting of the Asia-Pacific Parliamentarian Forum on Global Health under the theme "Building primary health care for the Future" from the 21st to 23rd of August 2023 in Ulaanbaatar, Mongolia.
Over 60 delegates including 15 parliamentarians, speakers and Ministers of Health from the Republic of Vanuatu, Socialist Republic of Vietnam, Kingdom of Cambodia, Cook Islands, Republic of Kiribati, Lao People's Democratic Republic, Mongolia, Niue, Papua New Guinea, Independent State of Samoa, Solomon Islands, Republic of Korea, Kingdom of Tonga, Tuvalu, and Republic of Fiji, and World Health Organization are attending the meeting.
The Asia-Pacific Parliamentarian Forum meets annually, and Mr. G.Zandanshatar, Chairman of the State Great Hural of Mongolia will chair this year's forum.
The region has made significant improvements in prolonging life expectancy, reducing maternal and child mortality over the last two decades, but environmental degradation, rapid urbanization, population growth, and changing trend are posing problems in meeting health demand. Persisting inequities in accessing primary health care and services in the region negatively affect health expenditure from year to year. Therefore, at the last year's forum, countries agreed on renewing the policy of delivering primary health care services to their population by endorsing a strategic document on "The Regional Framework on the Future of Primary Health Care in the Western Pacific".
The seventh Asia-Pacific Parliamentarian Forum will:
- Provide scientifically proven entry points and pathways to strengthen primary health care policy for the future based on the "Regional Framework on the Future of Primary Health Care in the Western Pacific".
- Invite and share parliamentarians' country experiences to champion and support primary health care reform through their core functions leveraging local opportunities.
- Present and share innovations in the promotion of primary health care, including technology, financing models, and partnerships addressing challenges in primary health care, and
- Consider and share opportunities for parliamentarians to promote primary health care beyond the health sector, including through partnerships at the global, regional, national, and local levels, and organize discussions on reaching the Sustainable Development Goals.
Participants will endorse the "Ulaanbaatar Communique", urging fellow parliamentarians to take opportunities available to them to use their functions to support building a powerful primary health care system for the future.
The Asia-Pacific Parliamentarian Forum is a platform for parliamentarians to exchange ideas, build political will, strengthen capacities, and foster collaboration in driving sustainable action for health.
Parliamentarians, through their core functions of law-making, budgeting, government oversight, and representation of constituencies, can play an important role in shaping health priorities and driving actions at global, regional, national, and local levels. These functions also offer opportunities to foster multisectoral action and engage in international partnerships.
The Forum was established in 2015 by the National Assembly of Korea with the support of the World Health Organization; now around 30 countries are enrolled as members.