The Seventh Meeting of the Asia-Pacific Parliamentarian Forum on Global Health under the theme "Building primary health care for the Future" has commenced in Ulaanbaatar, Mongolia today on August 21, 2023.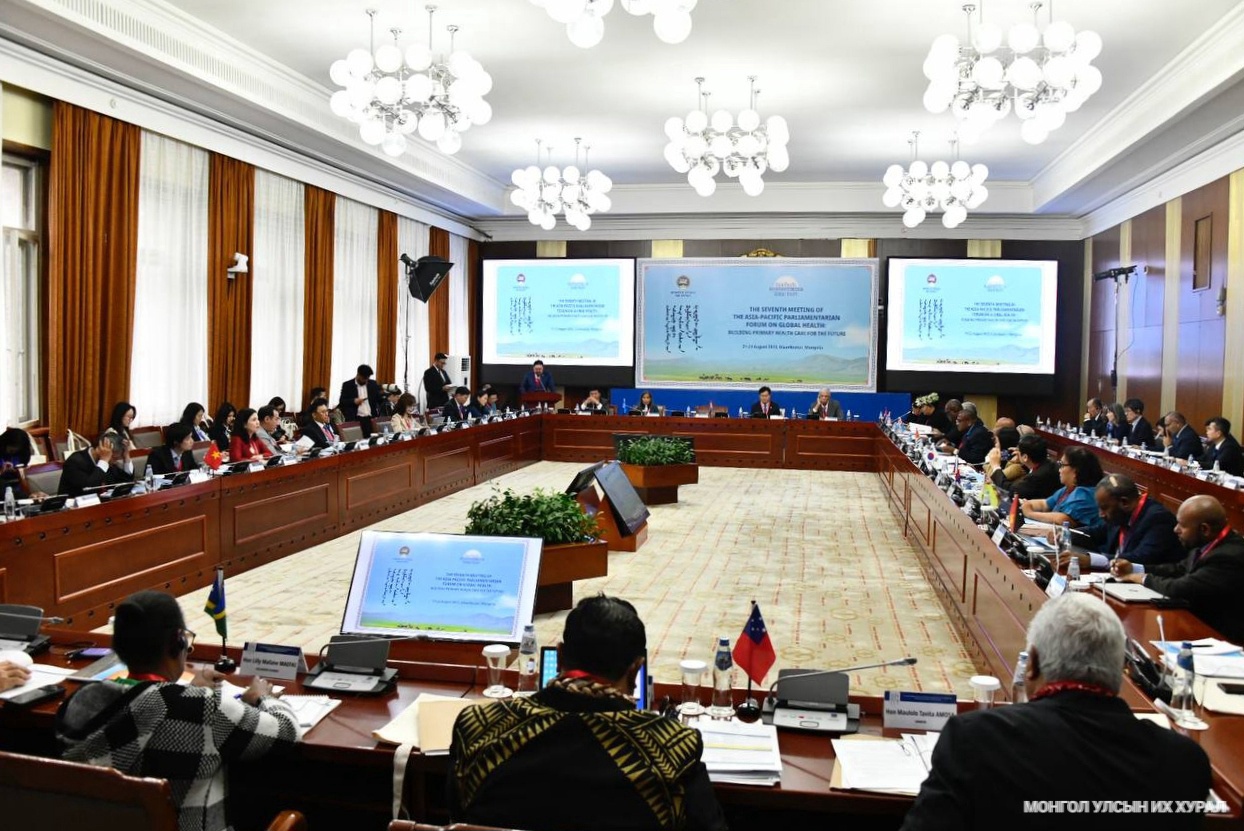 Over 70 delegates including 15 parliamentarians, speakers and Ministers of Health from the Republic of Vanuatu, Socialist Republic of Vietnam, Kingdom of Cambodia, Cook Islands, Republic of Kiribati, Lao People's Democratic Republic, Mongolia, Niue, Papua New Guinea, Independent State of Samoa, Solomon Islands, Republic of Korea, Kingdom of Tonga, Tuvalu, and Republic of Fiji, and World Health Organization are attending the Meeting.
The Seventh Meeting of the Asia-Pacific Parliamentarian Forum is chaired by Chairman of the State Great Hural (Parliament) of Mongolia, and below the opening remarks delivered by Chairman Mr. G.Zandanshatar during the opening ceremony.
Honorable members of parliament of countries in the Asia-Pacific region,
Dear WHO guests delegates,
Ladies and gentlemen,
Greetings and welcome to Mongolia.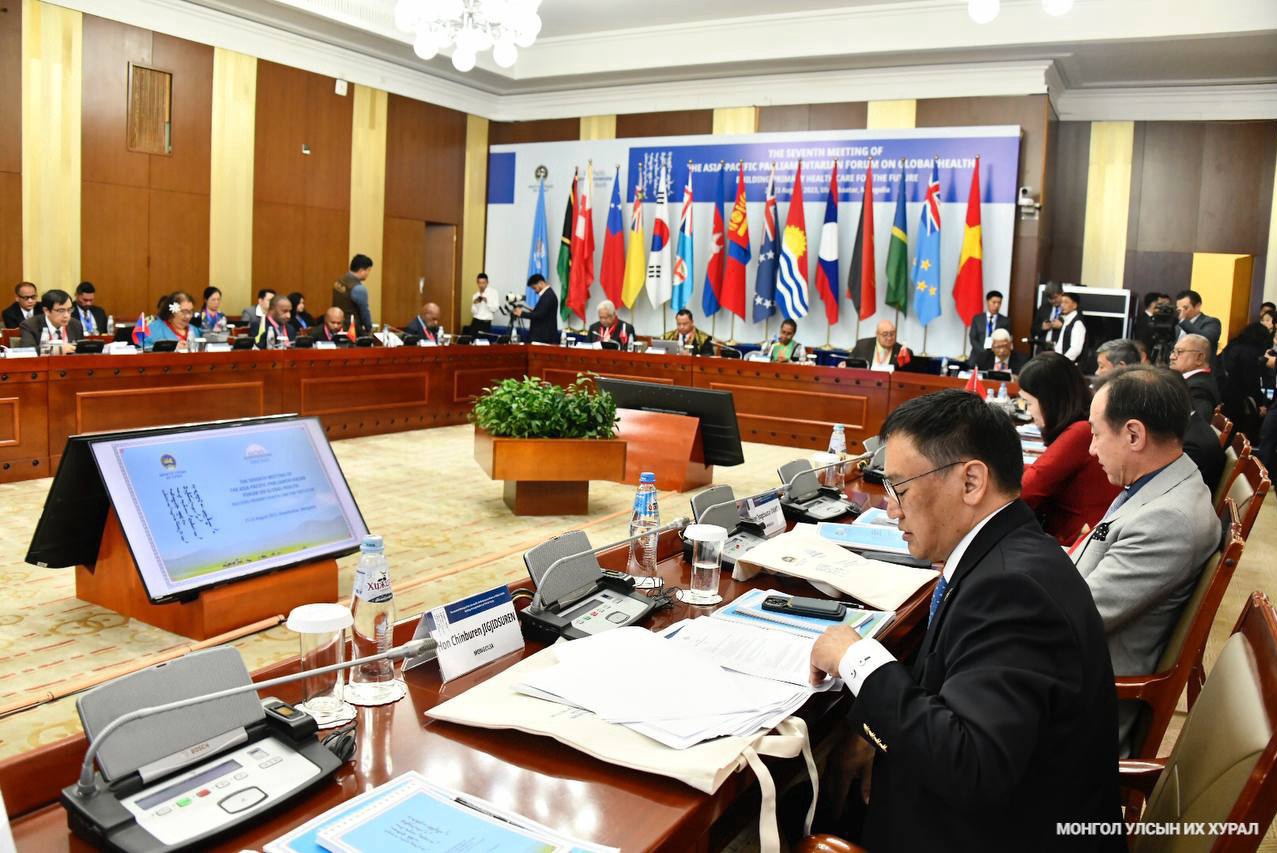 On behalf of the State Great Hural of Mongolia and myself, I am sincerely grateful for hosting in Mongolia the seventh Asia, Pacific Parliamentarian Forum on Global Health where over half of the world's population resides in countries in this region.
All of you would agree that the ultimate goal of any country's development is for the well-being, healthy and satisfying life of the population, and health is the basic measure of progress of human development.
Currently, discussion on vaccines, obesity, and tobacco control by the UN Security Council and World Economic Forum is progressing; a month later three high-level meetings on tuberculosis, universal health coverage in health services, and readiness for the potential risks of a pandemic by the 78th World Health Assembly are upcoming. They indicate that health issue converts to a leading direction in collaboration in the international arena rather is being a matter of one sector, and it stretched out one country's boundary.
Hence, countries are aiming to build a health system based on primary health care and services that coincided with principles of unity, equality, and justice, and make services accessible to all.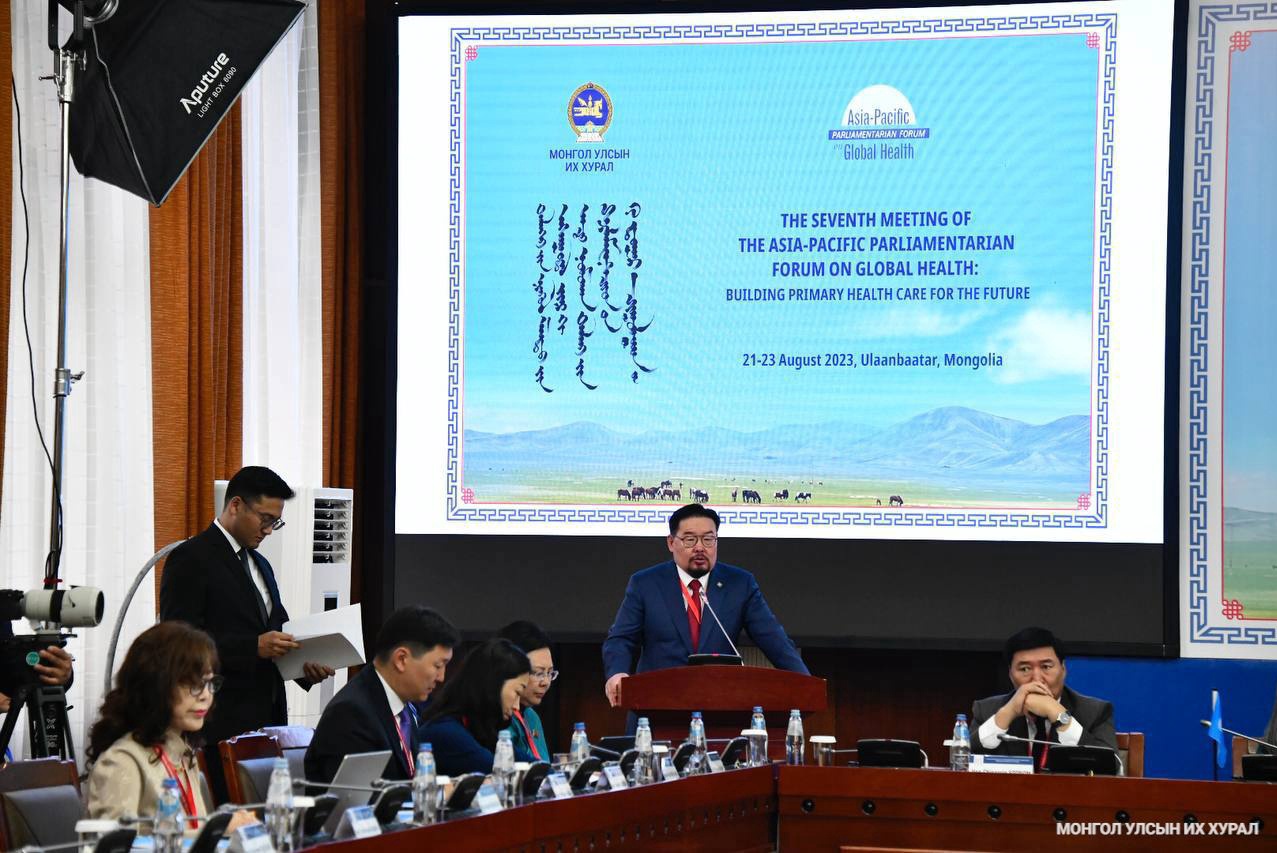 Globally, under this purpose, significant improvements in increasing availability of maternal and childcare and services, and prevention of communicable diseases been occurred over the passing years.
However new challenges such as population aging, the 'silent plague' of non-communicable diseases, climate changes, the impact of natural disasters due to global tectonic transition, and societal, economic, and demographic rapid changes are appearing. They result in an increase in expenses and demand for health care and services.
Because challenges are taking unprecedented scales never seen before and becoming more complicated, political leadership, innovation, and whole society partnership are essential to address them. We need to review the organization of health care and services, financing, and resource allocation to make it more accurate to restrict the growth of health expenditure, protect citizens from health-induced financial risks, and prolong population life expectancy.
We must accept primary health care and services as the most efficient approach of the development which requires a substantial amount of investment, and engagement of all sectors of society rather than a cheap package of care and services dedicated to low-income populations. Directing legal and policy reform to is our duty as parliamentarians.
The State Great Hural of Mongolia is supporting health sector reform, increasing the financing of care and services, reflecting health in policies of all sectors, and strengthening inter-sectoral collaboration as its' core goal. The COVID-19 pandemic for three continuous years had shown its' necessity sufficiently for us. The State Great Hural of Mongolia organized a wide range of response measures against the pandemic promptly, and by approving the Law on Prevention, Combat, and Reduction of Social and Economic Impacts of COVID-19 in April 2020 became one of 32 countries who had endorsed an independent law.
It resulted in significant advantages by enabling the legal environment to organize prompt response actions, to make budget amendments to the operating cost of the health sector, and to carry out coordination between chief finance officers, and between asset and operating cost expenditure.
Although World Health Organization declared end to the pandemic threat 3 months ago, our country has started early screening among the total population to address till existing health consequences of COVID-19, and we believe that it can be a model at a regional level.